The concept of scheduling and planning seems so simple, just write down when to do certain things, remember a few important meetings, and that's all. Unfortunately, that's not so simple after all. Especially when it comes to future planning and collaborating with others, things can become complex quickly
In the old days, people used to write down their plans in a diary and schedule plans by turning pages, but those were the days of the past.
Google calendar first released as a beta in 2006, since then it refined the concept of calendars. In fact, it introduced calendar to a large number of people who never used the calendar before and integrated productivity into their day to day life.
Here are the top Google Calendar features that will make you gain more productivity-
1. Group different types of events by creating multiple calendars
One of the most interesting feature is we can create multiple calendars to group different types of events. One can easily separate work meetings from personal life events.
When you start, You can see all your calendars under My Calendar section
Steps to use this feature:
To create a new calendar click on (+) near other calendar section
Select create new Calendar from the menu.
Enter name, description, and timezone and create a calendar. You can also color-code your calendar.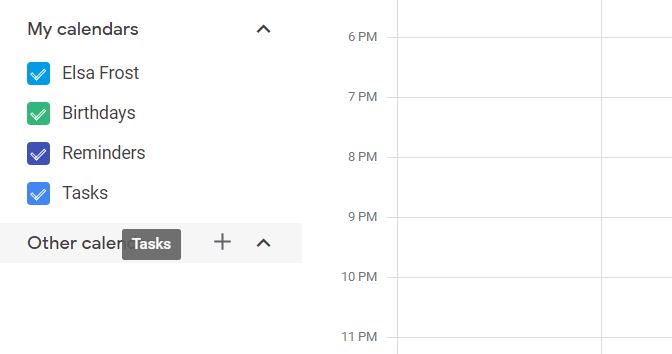 2. Share you Calendar
Whether it is your work or personal life, you often need to balance your time. Sometimes it is difficult to decide which event to attend. When you are working with many people you always need to respect other people's schedules. Google calendar helps you to make this process more seamless by enabling you to share your calendar.
This lets other people who see what is on your calendar, let's say if someone wants to meet you they can see on your calendar if you are busy at class or attending some important meeting at some particular time.
This feature is very useful for people who work remotely and attend lots of meetings. Sharing your calendar eliminates the need to reply to each person about your availability.
Steps to use this feature:
Hover over you calendar you want to share (Listed under My Calendar Section)
Click on Three vertical dots at the side of your calendar
Select Settings and Sharing from the opened menu
The setting window for your calendar would appear.
Scroll down to "Share with specific people" section and click "Add People"
Enter the email of the users you want to share your calendar with.

You can learn more about sharing your calendar with other users here:
3. Google Calendar for Desktop: With a Hack
Some people prefer a full experience of Google calendar as a desktop app, separate from their chrome browser.
With new technology enhancement of Google Chrome, you can now open Google calendar in its own native window
To use Google Calendar as a desktop app follow these steps
Open Google Calendar on your Chrome browser
Click on the Chrome Settings button (Three Vertical Dots) on the top right section
From the settings menu go to "More tools" and click on "Create Shortcut…"
A dialog box would appear for confirmation
Remember to select the "Open as window" option
A shortcut would appear on your desktop, When you open this shortcut Google Calendar App would launch in its own window.
4. Enable multiple clocks
You must have come across the situation where you have to check what time it is at some specific timezone. If you are working remotely with people from multiple timezones across the world, This feature is a time saver. It lets you see the current time from multiple timezones right on your google calendar.
Steps to follow to use this feature:
Click on the gear icon at the top-right section to open settings
Scroll down to world clock and enable "show world clock"
Add the timezones you want to enable
Now you can see time from different locations

5. Add video call to your event with Google Meet
Whenever you want "face to face" interaction with your team you can use this feature in Google calendar to set up a Google Meet video call with your team.
This is as easy as clicking on a button, and that's it, you are ready to go. Google will manage sending Google Meet invites to all the attendees automatically.
Steps to use this feature:
While creating an event, click on "Add Google Meet video conferencing"
Add people to want to invite
Save

6. Embed you Google Calendar to your website
If you are a business or owns a website and want to share a list of your upcoming events to the world. Google calendar offers to embed your events directly to the website.
The team at Google themselves use this feature to publish their milestones and releases.
Steps to use this feature:
Hover over you calendar you want to embed (Listed under My Calendar Section):
Click on Three vertical dots at the side of your calendar
The setting window for your calendar would appear.
Scroll down to Integrate calendar section
Copy the "Embed code"
Use this code to embed calendar to your website (This requires basic knowledge of HTML)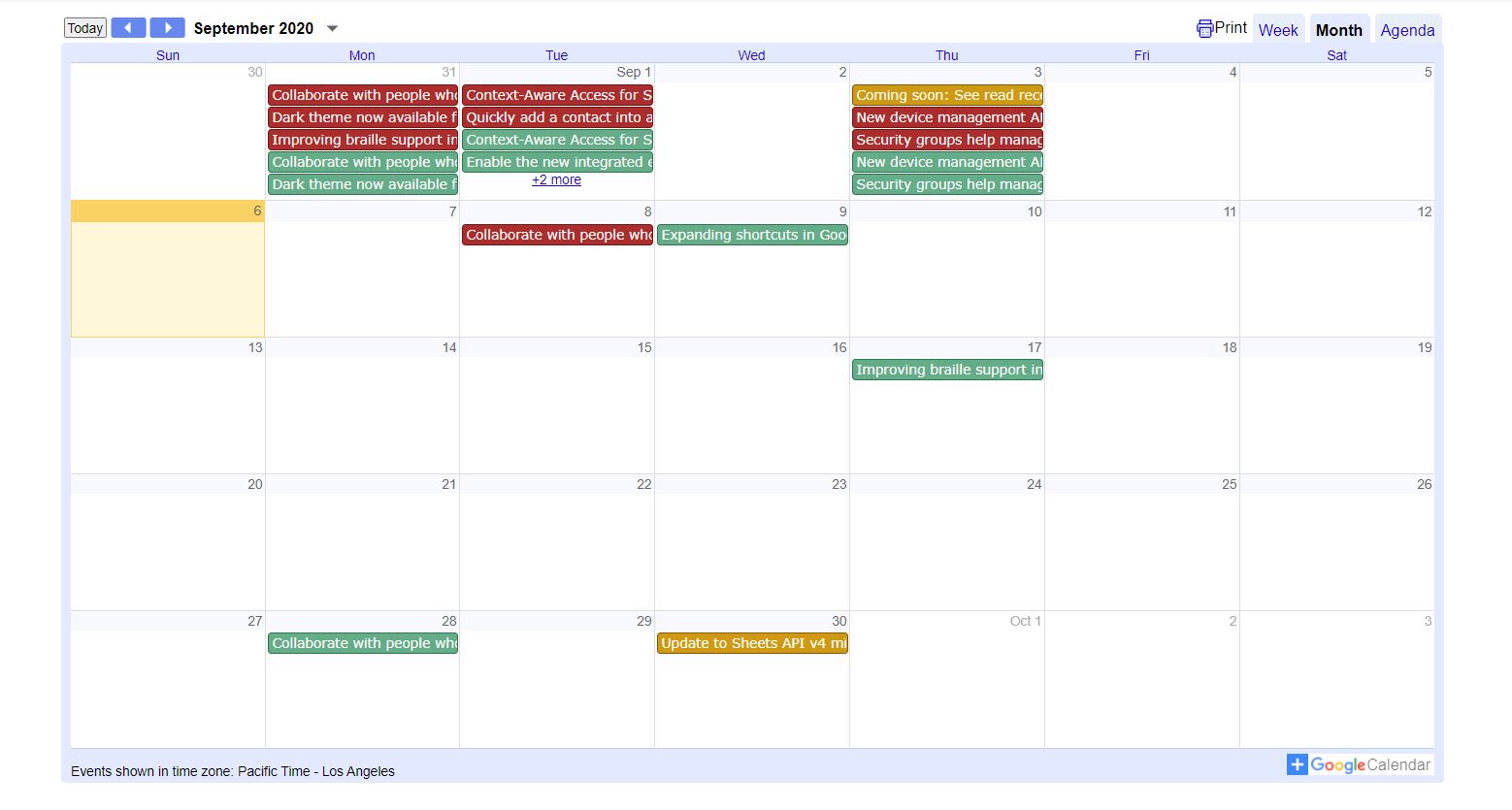 7. Using Reminders in Google Calendar
Some tasks are too important to forget, reminder feature helps you to remember it, no matter what. Once you set a reminder, they will only go away when you mark it done. If you have any incomplete reminder they move over to the next day.
To create a reminder simply select the reminder type when creating an event.
Note: Reminders are private and can not be shared

8. Simple yet powerful task management in Google Calendar – Introducing Tasks
This is relatively a new feature in the suit, which offers simple task management capabilities to organize work and life.
This feature is especially useful to organize your actionable items.
You can save all your actionable tasks like "Read Book this Sunday" or "Claim refund" it can be anything.
To create a task simply select the task type when creating an event.
To harness the full power of this feature use the Google Task app on your mobile to sync your task and get reminders on the fly.
9. Google Calendar Keyboard Shortcuts
Shortcuts are always timesaving,
To quickly access all the shortcuts available for you, simply press Shift + ?
A window with a list of all the shortcuts would appear