Table of Contents
In this new age of millennials, lots of people are attracted to starting their own business rather than a 9 to 5 job. Many first-timers have this question, how to start a business? In this guide, we'll look at how other successful companies were able to pull this.
Next-gen businesses like Uber, Udaan, or Instragam, are based on some great ideas.
While you may have some great ideas it may take a lot more to change that idea into a successful business.
As per the study by Static Brain Research Institute Almost 70% of startups fail within 10 years.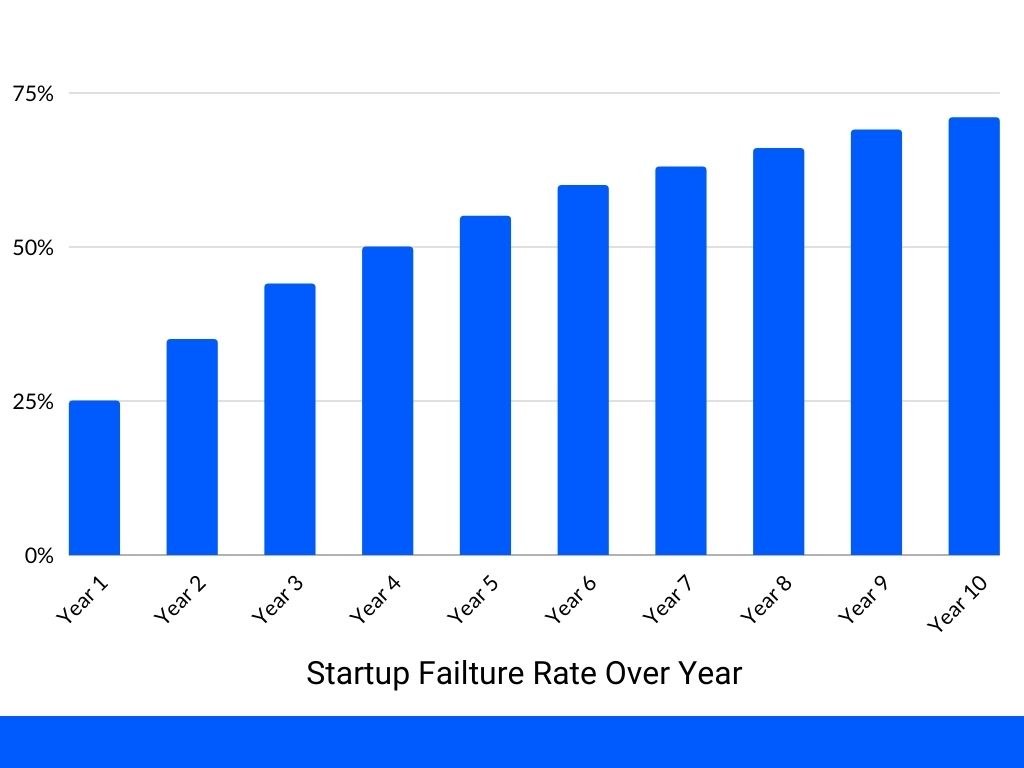 Don't get me wrong, but no matter how good your idea is, It may fall apart if your strategy is not good enough.
We can talk about businesses and startups all day, but the truth is there is no specific guideline that fits all.
This article talks about a more general approach and best practices that top successful companies followed.
We will not be talking about naming the business, making the logo, or registering the company, these are definitely important but this guide talks about more strategic actions to start a successful business.
---
Talk to any entrepreneur or small business owner
If you are a first-time entrepreneur this would be a great starting point.
While every startup is different, it would be a great idea to learn from other people's mistakes.
Talk about their greatest and worst decision. Believe it or not, it takes a lot to start your own business, and learning from experienced people would be great advice. They will be your best source for getting tips to start a business.
---
Validate your Idea and Refine it
You may have a great idea but does it provide any real value?
Everybody loves their own idea, but others like it too?
Before putting out so much time and effort it is important to validate your idea to find the perfect market fit.
Talk to some people whom you will be targeting. Take their survey on how they feel about your idea.
Your idea may or may not be unique.
Almost every idea you think of, someone might be doing either the same thing or working on a similar concept.
This does not mean you can not succeed and beat the competition. You just need to find the gap and refine your idea more.
How are you doing things differently? and what extra value can you provide?
A good example of this would be Mark Zuckerberg built Facebook even though Orkut and MySpace dominated the social media market.
The simplicity and ease of use of Facebook crushed the entire market.
Steve Jobs said in 1994, "Picasso had a saying, 'Good artists copy, great artists steal,' and we have you know always been shameless about stealing great ideas."
Apple products are known for Quality and Brand Value. Phones existed way before Apple was even born, but adding Brand Value, Status Symbol and High Quality made it one of the biggest companies in the 21st Century.
The more you refine your idea initially, your chances of getting successful become higher.
Keep in mind the people you are surveying and talking to, would be your initial customers.
Find more about validating your idea here.
---
Conduct Market Research
If you are not an expert on market research, It is simply gathering information about your industry and consumers.
Today the consumer can reach out to you directly, you have to make sure that your customer is able to find you, and you should be able to provide the right value to them.
Find the answer to these questions –
What is trending in your industry
Who is your target audience
Whom will you be competing against
Run a SWOT analysis to identify your strengths, weaknesses, opportunities, and threats.
Download this SWOT analysis template.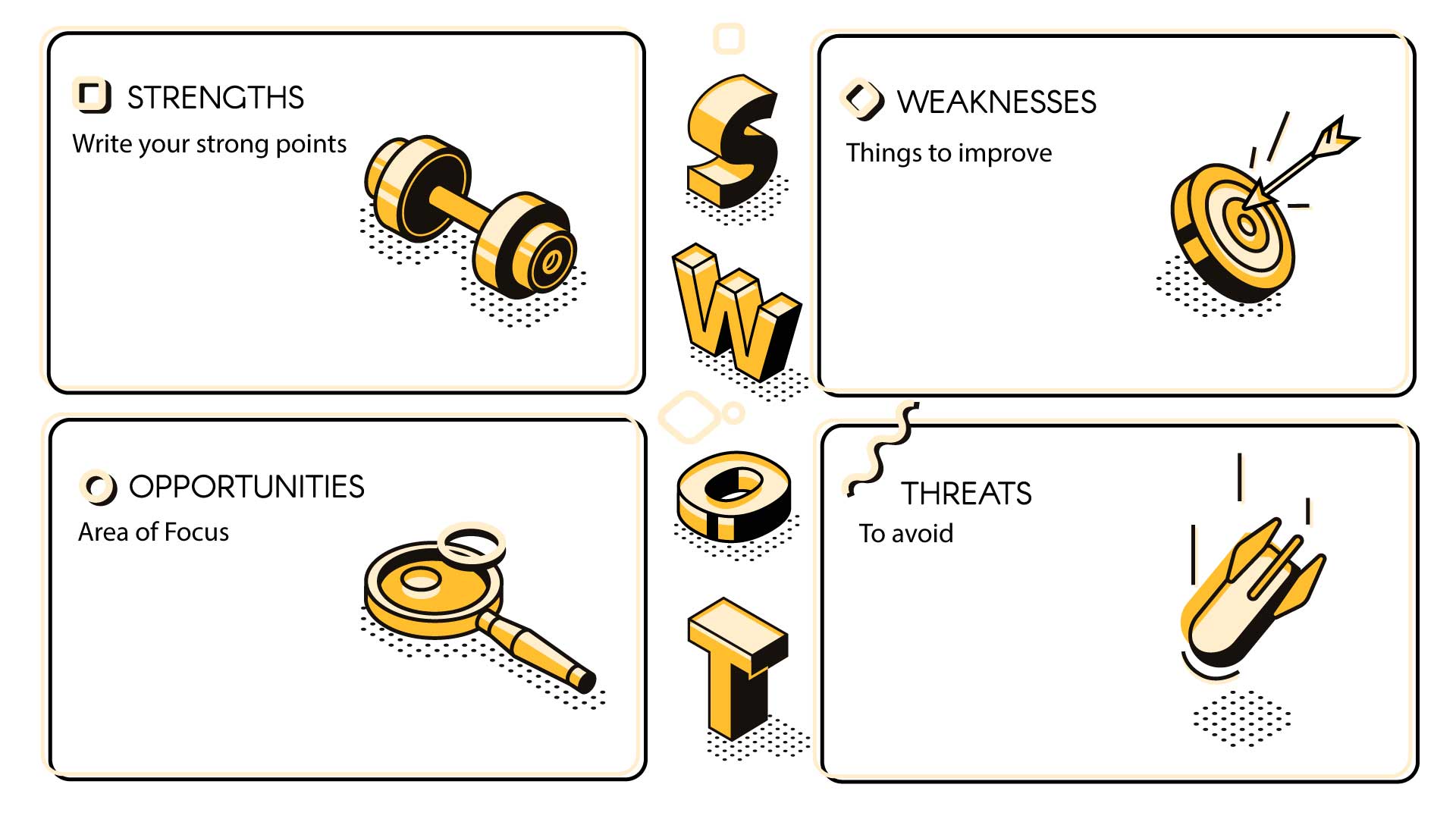 Here is a detailed guide on How to do Market Research.
---
Make a business plan
Even though many successful companies today didn't start with a business plan, it's a good practice to make one. Especially if you are planning to apply for a loan or getting investors on board.
A classic example of this is Pinterest, Ben Silbermann the co-founder of Pinterest relentlessly focused on the product and not on the business aspect.
Making a business plan or not to make a plan is a completely different story. Pinterest today is a very successful company but this strategy might not work out for your business needs.
In simple words, a business plan is about defining your future strategy and business objective.
It doesn't need to be too complex, just ask these simple questions to yourself,
Who your product/service will be targeting?
What is the objective of your business?
How quickly will you be launching?
Your business plan is like a blueprint to kickstart, but it is not definite
When new opportunities come, or market requirement changes, you can change your business plan as you go,
Follow this guide to make a professional business plan
---
Manage and plan finances
You need to secure enough funding to jump-start your business.
Every business would have different requirements and thus requires different amounts of funding.
Many businesses do not plan their long term finances and fail even before they start making any profit.
Determine your primary source of funding, and also plan your future strategy on finance,
Many entrepreneurs rely on their own savings or side jobs to get their business off the ground.
How long will you have to keep shedding money before you start making a profit?
Is available funding enough to launch your idea?
A good way is to run an analysis of all the costs. List all your expenses like fixed cost, variable, cost to build the product, app, or website. Cost for marketing.
The market is always unpredictable so keep room for extra spending.
Keep a tight watch on all your expenses and do not overstep your spending limit.
---
Be agile and launch quickly
From day one you should focus on getting your business in the market as soon as possible.
The more you delay, the more likely you will fail. Before starting, set a clear timeline for each and everything.
Your initial product need not be perfect! Many spend years trying to make a perfect product that people don't want.
Don't make this mistake. Plan an MVP for your business, Take feedback from people. What they like and hate? Then improve your product upon it. Take it to the market as soon as you can.
The more quickly you will adapt to your initial user's feedback, the chances of your success get higher.
You can learn more about planning an MVP here.
---
Network and Build team
You need to build a network with other co-founders and build solid partnerships. Remember, you can not grow your business alone.
Visit the nearest startup events and share your business idea. Learn how others are managing their business.
Build a partnership for mutually beneficial goals. See if others are willing to share about your business on their platform, while you do the same for them.
Using other people's audience is the best way to grow quickly.
Tools like LinkedIn and Reddit are great tools for expanding your network. If possible join a coworking space or some incubator. You will get great exposure to the market and build business relationships faster.
Networking is also essential for building a great team and finding your co-founder.
---
Create a customer base.
Remember the people you talked about your idea, they are your first customers. Share a message with them about your business.
Draft a message about your business and send it to your friends and family and ask them to share it as well.
Read this detailed guide about finding your first customer.
You want your customers to come again and again, but the majority of people tend to forget.
Build a solid customer list and keep them regularly informed. Send weekly emails or SMS telling them what your business is doing or about new offers.
Do not Spam, and send unnecessary emails or SMS. Ask users to Opt-in into your marketing scheme.
Your recall value is everything, the more your customers remember you, the more likely they will come back.
Only sending regular emails won't work, The only way to build a loyal customer base is excellent customer service.
---
Build a great digital presence and grow your business
If you want your business to grow organically you need to have a digital presence.
Building a digital presence is like your long-term investment, as compared to paid marketing which gives you instant results.
It helps you to grow organically over time, where customers can find you themselves.
Here are the few things you can do
Register yourself on Google My Business
Write about your business on social media
Build a website for your business
If you are not an expert on Digital Marketing you have to either become one or hire somebody who can do so.
Here are a few good resources if you want to help with the digital presence.
Learn SEO– For learning the basics of Search Engine Optimization
Startup Launcher– Get your digital presence.
Learn Social Media– For building a brand presence on social media.
---
Prepare for unexpected challenges
If you have followed this guide so far, you might have realized starting your business isn't that easy.
You will come across tons of challenges.
Remember Rome was not built in a day. It takes time to build a successful business model.
To avoid unnecessary problems. Always operate within the laws. Seek advice from a professional Lawyer or Chartered Accountant.
Surround yourself with the right people.
In this long journey, you would need to be constantly motivated and energetic. This is only possible when you have the right environment, and people to guide you.
---
Final Notes
One of the most important things is to learn as you go.
As we mentioned earlier there is no definite set of steps for a successful startup, only patterns.
You need to keep learning new things, always listen to your customer's feedback, and plan accordingly.
Avoid risky shortcuts. One thing which is common among all the successful co-founders is Hard Work.
There are no bad ideas, only bad execution – Gary Dahl, a freelance copywriter became a billionaire by selling a simple stone.
Consistency is the key. Fail and Relaunch again with a better strategy.
Plan your exit strategy, do not stick to your idea.
Once you realize it's not working after giving enough time, it's better to move on.
Regularly assess your business health, and set new goals.
Last but not least be confident.